Exploring the three options for the future with residents
Exploring the three options for the future with residents
At workshop 4 in December 2019 the BEST team explained the three options for transformation based on resident feedback and based on Newlon's most recent 'stock conditions survey'.
Rolling programme of essential maintenance
Creating new homes in the gaps between buildings to pay for more extensive works to your homes, and improvements to open space
Redevelopment and refurbishment
A mixture of new build homes and extensive refurbishment to retained buildings. Transformation of the landscape and open space.
At workshop 5 at the end of January 2020 the BEST team reported back on exploratory work and analysis that had been carried out on the three options above. It was explained that:
This option involves the continuation of Newlon's current, ongoing maintenance programme
This option has been ruled out by the BEST team because it would not solve structural and long-term issues such as overcrowding, damp, condensation, lack of storage or poor drainage.
This option involves building new homes on the existing open spaces of the estate.
This option has been ruled out by the BEST team because:

It would not raise sufficient funds to complete a full refurbishment of blocks across both Old and New Barnsbury.
Infill would result in a loss of usable outdoor space and trees.
Redevelopment and refurbishment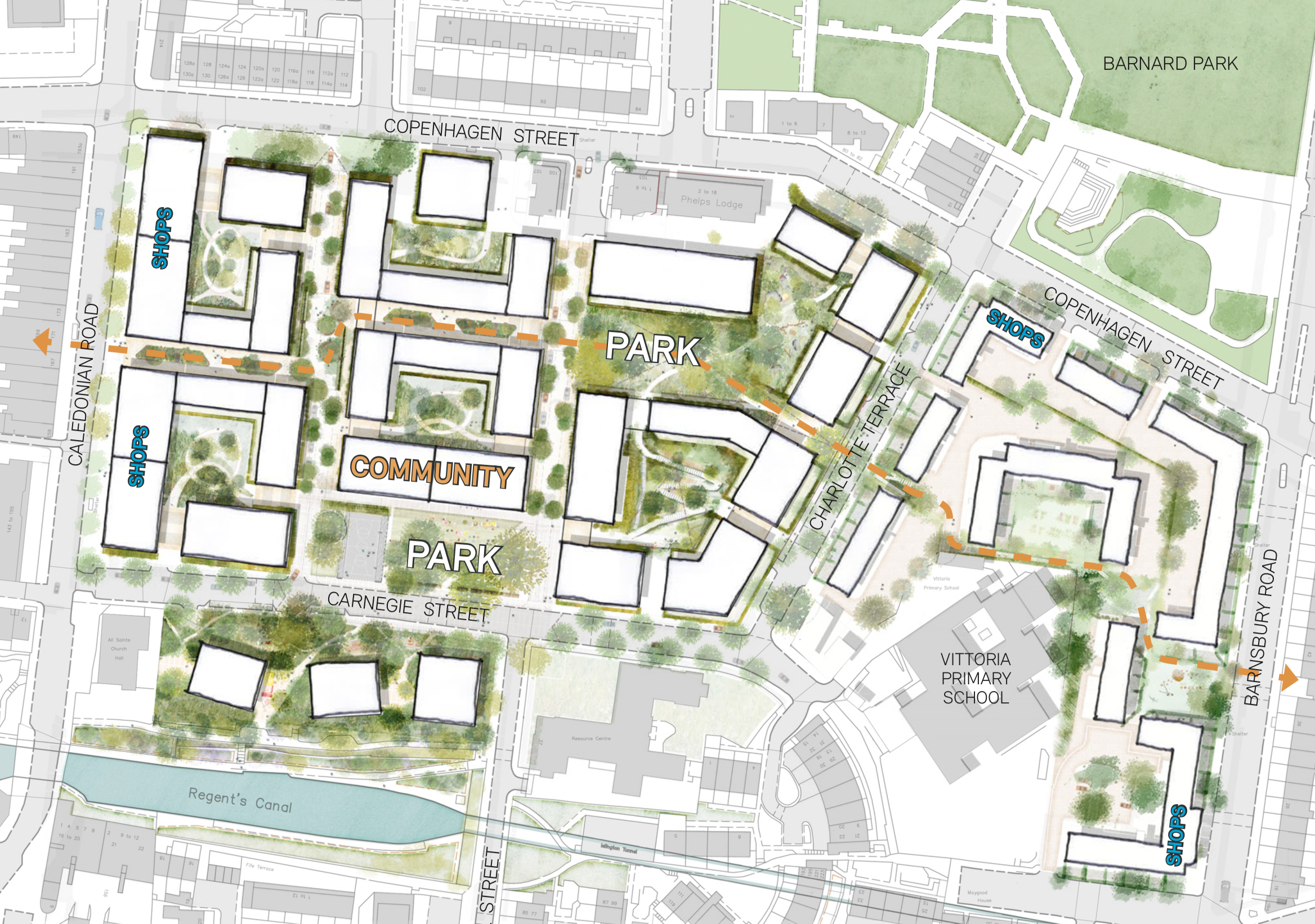 Refurbishment of Old Barnsbury: What does this mean for me?
Do you live in Old Barnsbury?
Refurbishment of Old Barnsbury would deliver long-term solutions to ongoing problems with the buildings – in particular, damp – as well as improvements to social tenants' homes.
Homes:
• New kitchens
• New bathrooms
• New windows
• New front doors
Outside Space:
• Improvements to landscape
• Improved cycle & bin storage
• Improved play areas
• Better lighting
Buildings:
• Roof repairs
• A long-term solution to damp and condensation
• Improved security
• Improved entrances and communal spaces
Leaseholders on Old Barnsbury would not be required to pay towards the cost of these works.
Estate-wide benefits:
• Improved landscaping across the whole estate
• New community centre & facilities
• A range of play equipment for different ages
• Improved parks with new amenities for all ages
• Community gardens and growing areas
• More varied, biodiverse planting which is attractive and encourages wildlife
Do you live in New Barnsbury?
The redevelopment of New Barnsbury would enable Newlon to provide residents with the following benefits:
• New homes built to modern standards – improved kitchens, bathrooms and storage.
• Creating new family homes, providing a solution to existing problems with overcrowding.
• Providing new homes that are suitable for the needs of older people.
• Providing adaptable or wheelchair homes designed to modern space standards.
If New Barnsbury were to be redeveloped we envisage that most residents would be able to move directly from their existing home into their new one. A full 'decant' strategy will be created and made fully available prior to any ballot.