The vision for the Barnsbury Estate
We are proposing an extensive transformation for the entire Barnsbury Estate to deliver better homes and outside spaces for residents. The full details of this vision and Newlon's offer to you is set out in the Offer Document.
This document has been developed, following 12 months of consultation with residents, to help you understand the proposals before the ballot.
If you require a copy of this document in a different language or format then please do not hesitate to get in touch with us on 020 7613 7596 or 020 8709 9172 or email BEST@Newlon.org.uk.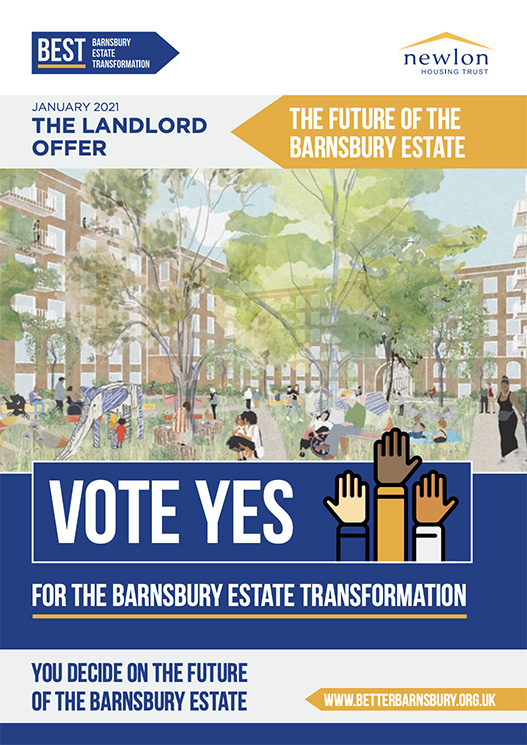 The refurbishment of Old Barnsbury will offer significant improvements to homes and outdoor spaces, including the following:
Addressing long standing issues such as damp, leaks, poor layout and lack of storage.
Delivering significant improvements to residents' homes including new kitchens and bathrooms.
Transforming outdoor spaces and improving lighting.
Transforming the existing green spaces with new paths, seating play equipment and outdoor fitness equipment.
View of the improved community growing gardens.
View into Barnsbury Road Park
We have also set out a series of promises to tenants on Old Barnsbury, which are:
We will meet with you to discuss your refurbishment options including kitchen and bathroom layouts
The refurbishment will start at the same time as construction on New Barnsbury and will take place in phases.
The majority of residents will be able to remain in their homes during the refurbishment.
We will explore options for overcrowded households to move into a home that meets your needs.
Rents will not increase to pay for the refurbishment.
Our promises to leaseholders on Old Barnsbury are:
Resident leaseholders will not be recharged for any of the refurbishment works to the external and communal areas.
There will be opportunities for resident leaseholders to buy-in to internal works if they wish.
Non-resident leaseholders will be recharged in accordance with lease conditions and a cap of £50,000 will be applied to the work.
The redevelopment of New Barnsbury will provide new homes and spaces that meet the needs of residents, including the following:
New homes built to modern space standards, with an exemplary level of build quality.
Every home will have access to private outdoor space such as a balcony, terrace or patio.
The buildings will have highly insulated walls, meaning homes will be warmer in the winter and cooler in the summer. This will also help to reduce noise between neighbouring homes.
We will also be building around 550 to 600 new homes with the sale of these helping to fund the estate transformation. We are aiming that 50% of the new homes will be affordable housing.
The Mews will offer quiet east to west links for pedestrians only
View of shops and cafes along Caledonian Road with safer walking routes into the estate
We have also set out a series of promises to tenants on New Barnsbury, which are:
Your rent will not increase – if you move to a home with the same number of bedrooms as you have now, your rent stays the same. If you are overcrowded and you move to a bigger home, your rent will go up in accordance with the existing rent levels.
Nobody will be rehoused permanently off the estate unless they want to be.
We will ensure that the vast majority of households will only move once.
For those tenants who do need to move into temporary accommodation we will endeavour to ensure this in on the estate.
We will discuss your preferences including location, layout and internal fixtures and fittings.
Our promises to leaseholders on New Barnsbury:
You will be offered an open market value for your home based on a RICS Red Book valuation and we will pay for you to have an independent valuation.
We will pay statutory home loss of 10% of value (for resident leaseholders) and 7.5% (for non-resident leaseholders) as well as disturbance costs connected to relocation.
Resident leaseholders will be offered the opportunity to transfer their equity to a new build home so they can remain on the estate.
Transformed outside spaces
We are putting the community at the heart of the Masterplan, and will be making substantial improvements to outdoor and communal spaces, including:
A larger community centre for all residents to use and enjoy, with flexible spaces and rooms to accommodate a range of activities.
A new community park with a new games area, outdoor gym equipment, paths and seating.
Improved accessibility across the estate through new walking routes and cycle paths.
New spaces including resident courtyards and public spaces and parks.
View of a transformed Pultney Park
View of the new community centre and community park with a semi sunken multi-use games area
Landlord Offer: Our key promises to you
Landlord Offer: Design and Landscape